Once a well-kept secret, the enchanting island of Madeira is starting to gain recognition (thanks largely to TikTok) as a must-visit destination. Situated off the coast of Portugal, this Atlantic gem captivates travelers with its dramatic landscapes, rich cultural heritage, and delightful culinary offerings.
As Madeira's popularity among tourists surges, it's time to uncover the myriad experiences awaiting you on this remarkable island. In this comprehensive guide, we'll tell you everything you need to know about the Portuguese island. Covering the best of Madeira, from its lush forests and picturesque beaches to its charming towns and historical treasures. Get ready to fall in love with Portugal's paradise.
The Portuguese first settled on Madeira in the 15th century, with the island initially serving as a stopover for ships traversing between Europe and the Americas. Its mild climate and fertile soil, however, soon lured settlers to cultivate the land, resulting in an abundance of sugar, wine, and fruits. By the 19th century, Madeira's breathtaking beauty and pleasant weather enticed tourists from all over Europe, becoming one of Europe's best-kept secret holiday destinations.
The ideal time to explore Madeira is during the spring (April to June) or autumn (September to November) months when the climate is pleasantly warm and sunny, with average temperatures hovering around 20°C/68°F Rainfall is also less frequent during these periods compared to summer or winter.
For those seeking an active getaway, summer (July to August) in Madeira offers warm, sunny weather perfect for hiking and swimming. However, be mindful that the island can become quite crowded during this peak season.
If you're after a laid-back vacation, consider traveling to Madeira in winter (December to March). The climate remains mild, providing ample opportunities to appreciate the island's natural beauty, but do note that rainfall can be more prevalent during this time.
All and all it really depends on what you're planning to do the most while you're on the island, so here's a tailored breakdown of the best times to visit Madeira based on your interests:
Hiking: Spring or autumn offer mild weather and less rain, making it the perfect time for hiking adventures.

Swimming: Summer provides warm, clear waters for an exceptional swimming experience.

Wine tasting: Spring and autumn's mild weather coincide with ripe grapes, making it an ideal time for wine tasting.

Culture: Immerse yourself in Madeira's vibrant culture during the summer, when numerous festivals and events take place.

Relaxation: Winter's mild weather and fewer tourists create a serene atmosphere for relaxation.
One of the main draws to Madeira, other than its stunning landscape is the diverse array of activities that you can do while you're there. From summiting the mountains and snorkeling in the bays to exploring the local culture or diving into the historical experiences. Here are some ideas for your Madeiran adventure:
Hiking: If you like to hike, Madeira is the place for you. Madeira's diverse trails cater to hikers of all levels. Popular routes include the challenging Vereda do Pico Ruivo, leading to the island's highest point, and the Levada dos 25 Fontes, a mesmerizing journey through lush forests. Regardless of the trail you choose, you'll be blown away by the natural beauty of the island.

Swimming: The island's picturesque beaches, such as Praia da Calheta, Praia da Fajã dos Padres, and Praia da Machico, invite you to unwind and soak up the sun.

Historical Exploration: Madeira's rich past can be discovered through its historical sites, including the São Lourenço Fort, the São Pedro Church, and the Quinta das Cruzes Palace.

Local Culture: Experience Madeira's vibrant local culture by visiting the bustling Mercado dos Lavradores, where you can sample fresh produce and seafood, open Monday to Thursday from 8am to 7pm, Friday from 7am to 8pm, and Saturday from 7am to 2pm.

Wine Tasting: Madeira's renowned sweet and fortified wines are a must-try. Visit local wineries to learn about the winemaking process and sample their exquisite offerings. Consider checking out Blandy's Wine Lodge, the oldest and most famous winery on Madeira. They have been making wine on the island since 1815. Additionally, H. M. Borges is another old and established winery. They have been making wine on Madeira since 1840.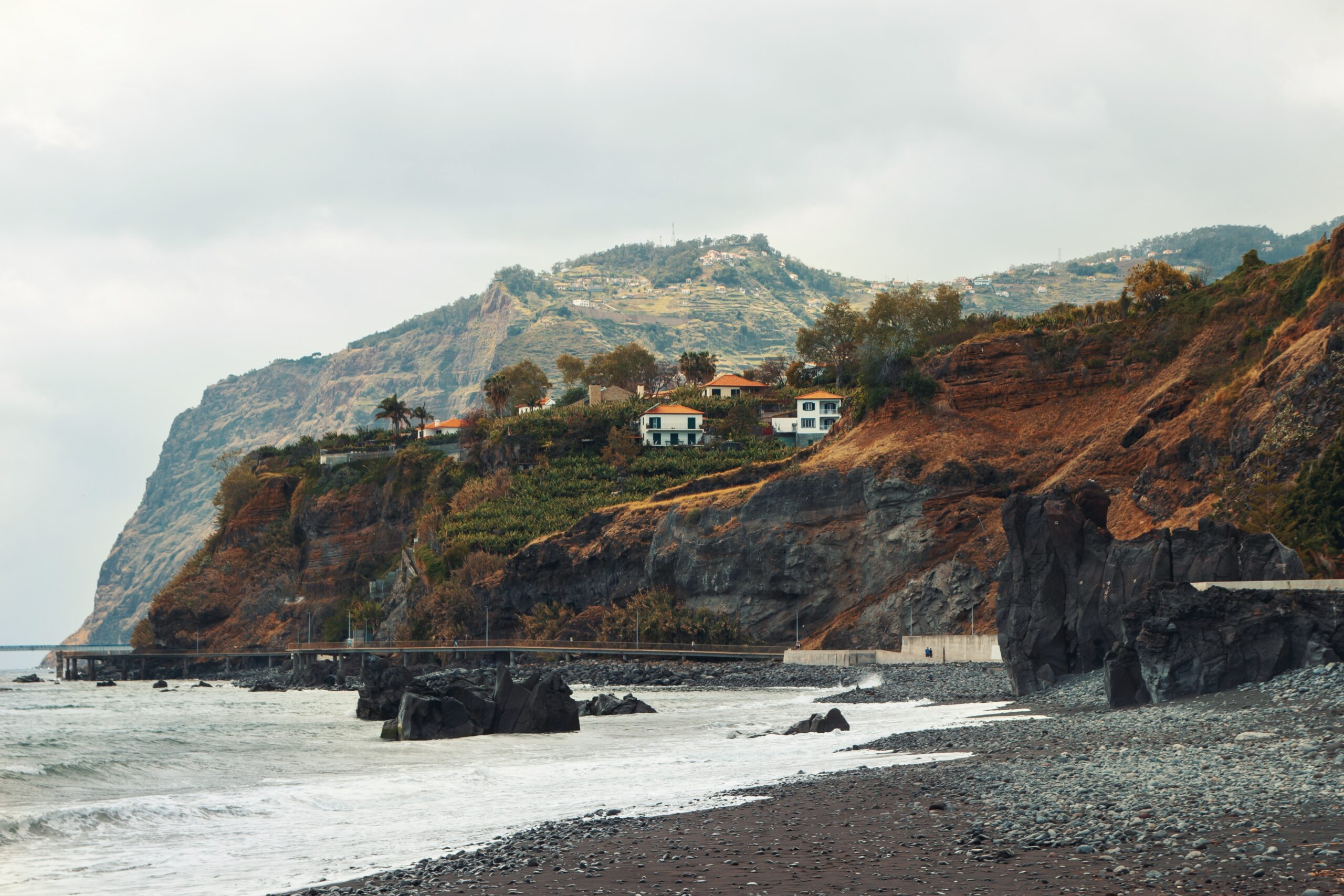 What To Eat While in Madeira
While you'd probably guess that fish is on the menu being that Madeira is an island after all, they offer an enticing array of culinary delights that stretch far beyond grilled fish. Here are some of the island's most cherished dishes:
Espetada: This mouthwatering skewered beef dish, grilled to perfection over hot coals, is a Madeiran staple. Often accompanied by a side of rice or potatoes, Espetada makes for a hearty, satisfying meal.

Bolo do Caco: This traditional Madeiran bread, crafted from wheat flour, water, salt, and yeast, serves as a versatile base for a variety of toppings such as butter, cheese, or ham. Enjoy this warm, delectable treat as a snack or appetizer.

Lapas: Indulge in the flavors of the sea with Lapas, a local shellfish delicacy. These limpets are typically cooked in a rich blend of butter and garlic, and served with a zesty squeeze of lemon.

Espada com Banana e Maracujá: A unique and harmonious combination of flavors, this dish features fried black scabbard fish served alongside banana and passionfruit. The result is an unforgettable culinary experience that perfectly captures Madeira's essence.

Carne de Vinha d'Alhos: Savor the rich taste of pork marinated in a mixture of wine, vinegar, garlic, and salt. This tender, flavorful dish is then cooked with potatoes, carrots, and turnips, offering a comforting taste of Madeiran home cooking.

Queijada: For a sweet finish, sample this traditional Madeiran cheesecake. Made with fresh cheese, eggs, sugar, and cinnamon, Queijada is a delightful way to conclude any meal on the island.
The most convenient way to reach Madeira is by plane, with several airlines offering direct flights from major European cities. A small airport on the island also accommodates flights from the Canary Islands and Morocco. You can also catch a Ferry from multiple ports on the Mainland of Portugal. 
The Different Areas of Maderia
Selecting the perfect location to stay in Madeira is largely determined by your personal preferences and budget. Here's a rundown of some of the top areas worth considering:
Funchal: As Madeira's capital, Funchal exudes vibrancy and offers visitors an array of hotels, eateries, bars, and shopping options. Attractions such as the Lido Gardens, Santa Catarina Gardens, and the Botanical Garden can be found here. Funchal also serves as an excellent base for exploring the rest of the island.

Machico: Situated on Madeira's east coast, Machico may be smaller than Funchal, but it still boasts attractions like Machico Beach, Machico Fort, and the Machico Museum. This charming town is perfect for relaxation and soaking up the picturesque surroundings.

Calheta: Nestled on Madeira's southern coast, Calheta is renowned for its stunning beaches, including the popular Praia da Calheta. A selection of luxury resorts can be found in this idyllic area.

Camara de Lobos: Located on the southern coast, Camara de Lobos is an adorable fishing village famous for its seafood restaurants. This delightful spot is also a favorite for whale-watching enthusiasts.

Ponta do Sol: Found on Madeira's west coast, Ponta do Sol is a tranquil town known for its breathtaking Atlantic Ocean views and verdant vineyards.
Expect to spend around €1,000 per week for a mid-range Madeiran experience, including accommodation, dining, transportation, and activities. Overall it's a fairly reasonable island in terms of price, so you can make just about any budget work.