It's definitely worth your while to hop on the train, grab a bus or rent a car and get out to see the smaller towns around Lisbon. I know it's not easy to tear yourself away from the captivating Portuguese Capital, but if you can there's a handful of cities within a stone's throw that make for unforgettable day trips from Lisbon.
Sintra: A Fairytale Come to Life
Ask anyone what the best day trip from Lisbon is and the first city that's likely to come out of their mouth is Sintra, and there's good reason for it. It's like stepping into a dreamy world of palaces and castles.
Nestled amidst lush forests and vibrant gardens in Sintra you'll feel like you're inside a fairytale. It's a UNESCO World Heritage site, and it's nothing short of enchanting with its whimsical architecture and air of romance. Don't miss the colorful Pena Palace, the enigmatic Quinta da Regaleira, and the dramatic Moorish Castle.
How to get to Sintra from Lisbon: 
The most convenient way to reach Sintra from Lisbon is by train. Board the train at Lisbon's Rossio or Oriente station and arrive at Sintra station within 40-45 minutes. Trains run frequently throughout the day, making it an easy and affordable option.
Many people are surprised that although it's a coastal city, going to the beach in Lisbon isn't a super easy feat. Rather the locals head to the nearby city of Cascais to get their fill of sunshine.
You'll enjoy a day of basking in the sun and savoring the ocean breeze in this chic coastal town. With its golden beaches, elegant marina, and bustling town center, Cascais offers the perfect blend of relaxation and excitement.
Wander the picturesque streets, visit the historic Boca do Inferno, and indulge in mouthwatering seafood delicacies before heading back to Lisbon.
How to get to Cascais from Lisbon:
Cascais is easily accessible by train from Lisbon's Cais do Sodré station. The journey takes approximately 40 minutes and offers stunning views of the coastline along the way. There are departures all day long so you can plan your trip around your preferred schedule.
Óbidos: A Journey Back in Time
If you're a history buff, you'll love taking a day trip to Óbidos. You can spend the day wandering through the cobbled streets of the charming medieval town that's encircled by ancient walls.
It's easy to lose yourself in the labyrinth of narrow alleys, adorned with bright flowers and whitewashed houses. Don't forget to sample the local Ginja liqueur, and immerse yourself in the town's rich history as you explore the majestic castle.
How to Get to Óbidos: 
To reach Óbidos, take a bus from Lisbon's Campo Grande station. The journey takes around 1 hour and 20 minutes, and buses typically run several times a day. Be sure to check the timetable in advance to make the most of your time in this charming medieval town.
Arrábida Natural Park: An Oasis of Serenity
Want to get out of the city and into the stunning natural landscape of Portugal? This Day trip from Lisbon will have you reveling in the serene beauty of Arrábida Natural Park, where green hills meet pristine beaches and crystal clear waters.
Hike the trails, soak in the breathtaking views, and discover the park's diverse flora and fauna. If you have time, I'd suggest making a pit stop in the nearby fishing village of Sesimbra for a true taste of authentic Portuguese charm.
How to Get to Arrábida Natural Park:
The best way to explore Arrábida Natural Park is by car, as public transportation options are limited.
Renting a car from Lisbon allows you the flexibility to discover the park and its surroundings at your own pace. The drive to Arrábida takes about 45 minutes to an hour, depending on your starting point in Lisbon.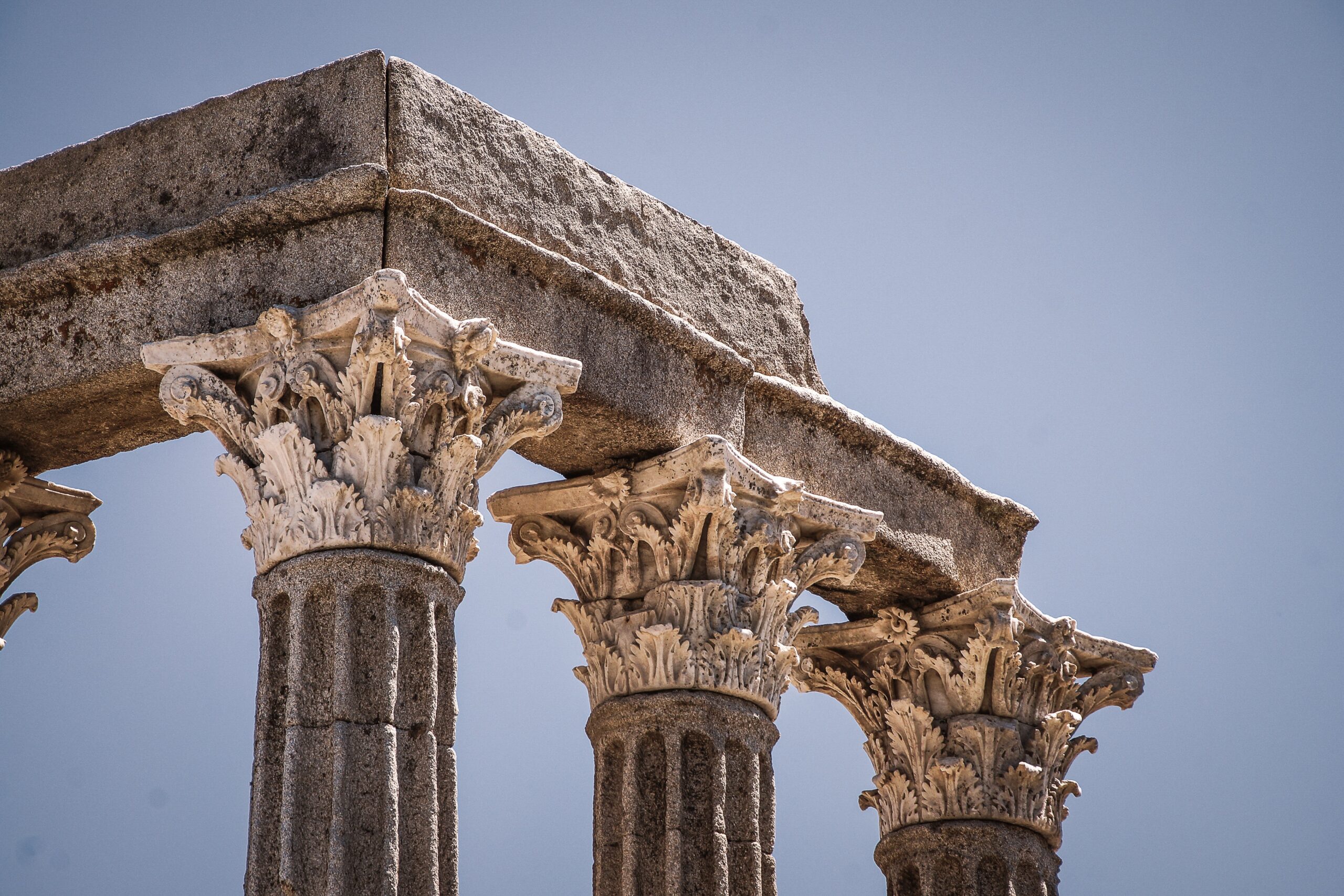 Évora: A Mosaic of History and Culture
Another day trip from Lisbon for history buffs, particularly if you're interested in the Roman Empire, is Évora. You'll feel as if you've traveled back in time when you're in Évora, it's a UNESCO World Heritage city where history and culture truly intertwine.
You'll want to make sure you have time to explore the ancient Roman Temple, explore the eerie Chapel of Bones, and see the grandiose Cathedral of Évora. Wander the narrow streets, admire the city's unique blend of architectural styles, and don't forget to indulge in the region's exquisite wines.
How to Get to Évora from Lisbon
Évora can be reached by train or bus from Lisbon. Trains depart from Lisbon's Oriente or Entrecampos stations, with the journey taking approximately 1 hour and 30 minutes. Buses leave from Lisbon's Sete Rios station and take around 1 hour and 45 minutes. Both options offer several departures daily.
Fátima: A Catholic Pilgrimage
I hesitated to add this day trip location to the list because in my opinion, it's more like a "Disneyland experience" in terms of everything becoming overly commercialized but since it's one of the world's most important Catholic pilgrimage sites, I figured I should include it.
If you do decide to go, you should visit the iconic Sanctuary of Fátima, the Basilica of Our Lady of the Rosary, and the Chapel of the Apparitions.
How to Get to Fátima from Lisbon
To visit Fátima, you can take a bus from Lisbon's Sete Rios or Oriente stations. The trip takes around 1 hour and 30 minutes to 2 hours, depending on the specific route. Buses run frequently throughout the day, offering a convenient and affordable option for travelers.
Setúbal: A Taste of Authentic Portugal
If you want to explore a more truly authentic Portuguese port town, Setúbal is your place. Immerse yourself in the vibrant atmosphere of the bustling city renowned for its fresh seafood and lively markets. Stroll along the harbor, visit the historic Fort of São Filipe, and delve into the local food scene with a plate of choco frito (fried cuttlefish) and a glass of regional wine.
How to get to Setúbal from Lisbon
It's easily reachable by train or bus from Lisbon. Trains depart from Lisbon's Roma-Areeiro or Entrecampos stations and take about 50 minutes to an hour. Buses leave from Lisbon's Praça de Espanha station, with a travel time of approximately 1 hour. Both options provide multiple departures daily.
Wondering why Porto Didn't Make This List?
Wondering where Porto is on this list? I don't recommend going to Porto for only the day. The city deserves at least two days— believe me, you won't be happy if you only go for the day because you'll only scratch the surface of what this incredible place has to offer.
For more information on Porto check out the Maia 10 Day Itinerary for Lisbon and Porto.